Kids Camp – STEAM Activities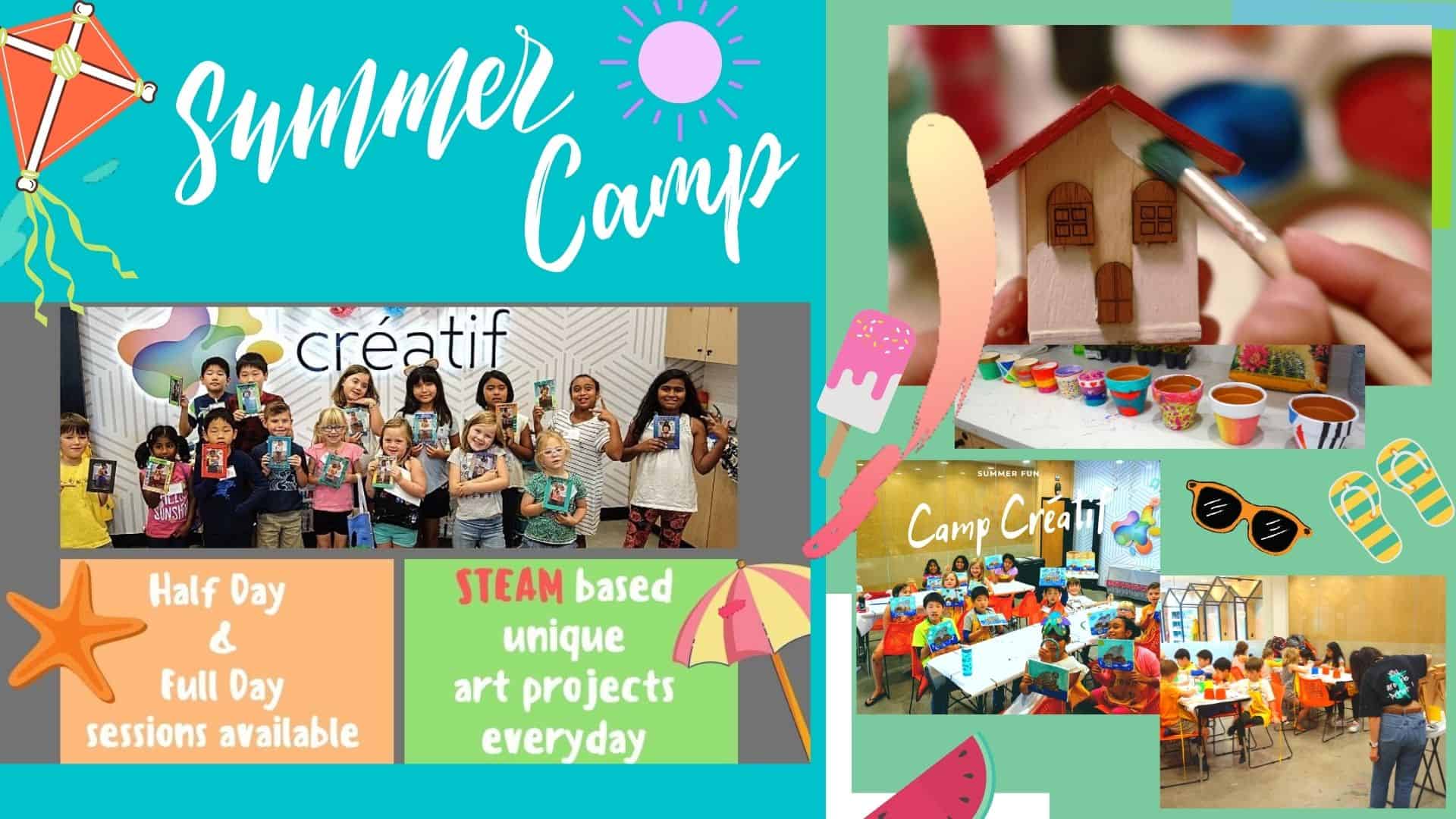 Our holiday and summer camps provide campers of ages 5 to 12 years, with the opportunity to participate in artistic exploration through exciting STEAM based projects, in a fun & friendly environment. At Camp Créatif, campers develop leadership skills, critical thinking, inventiveness, cultural awareness, social and emotional intelligence, through guided projects, arts & crafts, team building exercises and games. Most of our holiday and summer camp sessions follow a weekly theme where participants create unique and exciting art work each day. Our summer camp program is designed to offer learning opportunities through interactive, hands-on activities, games and art projects. Your kids will learn to paint on different surfaces, such as canvas, ceramics, clay, rocks, unfinished wood etc. and explore different art styles in an encouraging and inspiring environment. Join Camp Creatif to learn, explore, enhance and indulge in Art. See our Summer Camp terms and conditions for more information.​ NOTE: Sibling & Early Bird Discount may be available. Contact your nearest studio for more information.
Taking art further than school
We believe that art is one of the most important subjects that a school can offer to children. It can teach them an abundance of new skills that they just don't get from other academic activities. Unfortunately, it often seems like art is not prioritized in most schools' curriculums. Our summer art camps give kids the chance to have loads of fun, meet new friends, and explore their creative side.
What can kids learn from art summer camps?
Attending an art camp presents kids with a number of unique benefits. The very process of being creative and making art is a valuable skill in itself. Here are a few other key things that kids can learn from attending an exciting summer camp:
Social skills
The Créatif environment encourages kids to get to know one another and work together on projects. The social abilities that a child picks up during these moments are extremely valuable and many parents see this as one of the biggest reasons to bring their child along to our sessions. Summer camp attendees will pick up leadership, teamwork, critical thinking and other essential social and emotional skills. This is all achieved through the medium of art and creative classes.
How to explore their creativity
Creating art is a completely unique process that many children rarely experience in school. However, learning how to be creative is a skill that can be transferred to all subjects and walks of life. Whether you're trying to solve a math problem or writing a story, creativity is an essential tool to have. We believe that the best way to learn is to have loads of fun creating art and this is the primary focus of our summer art camps.
About different art styles
Our art camps give your kids a glimpse at the interesting world of art history and the amazing things they could find in a museum. We'll focus on exciting movements from Pop Art to pottery and help our campers create some wonderful works of their own. Our teaching artists always make their sessions extremely fun and engaging and students always love learning about different styles of art and the artists that created them.
Art camps in a beautiful Créatif studio
All summer camps take place in a Créatif studio. Our studio design is award-winning and has been specifically crafted to encourage creativity, collaboration, and inspiration. As soon as you step into one of our studios, it immediately becomes clear that it's going to be a fantastic environment for creative learning.
Other opportunities to create
All of our studios offer a walk-in service, meaning you don't have to book in advance if you'd like to come and paint. Children of all age groups and adults can visit the studio and get creative whenever they want. We also offer team-building events for businesses and kids' and adults' parties. Be sure to check out the rest of our website to find out more.