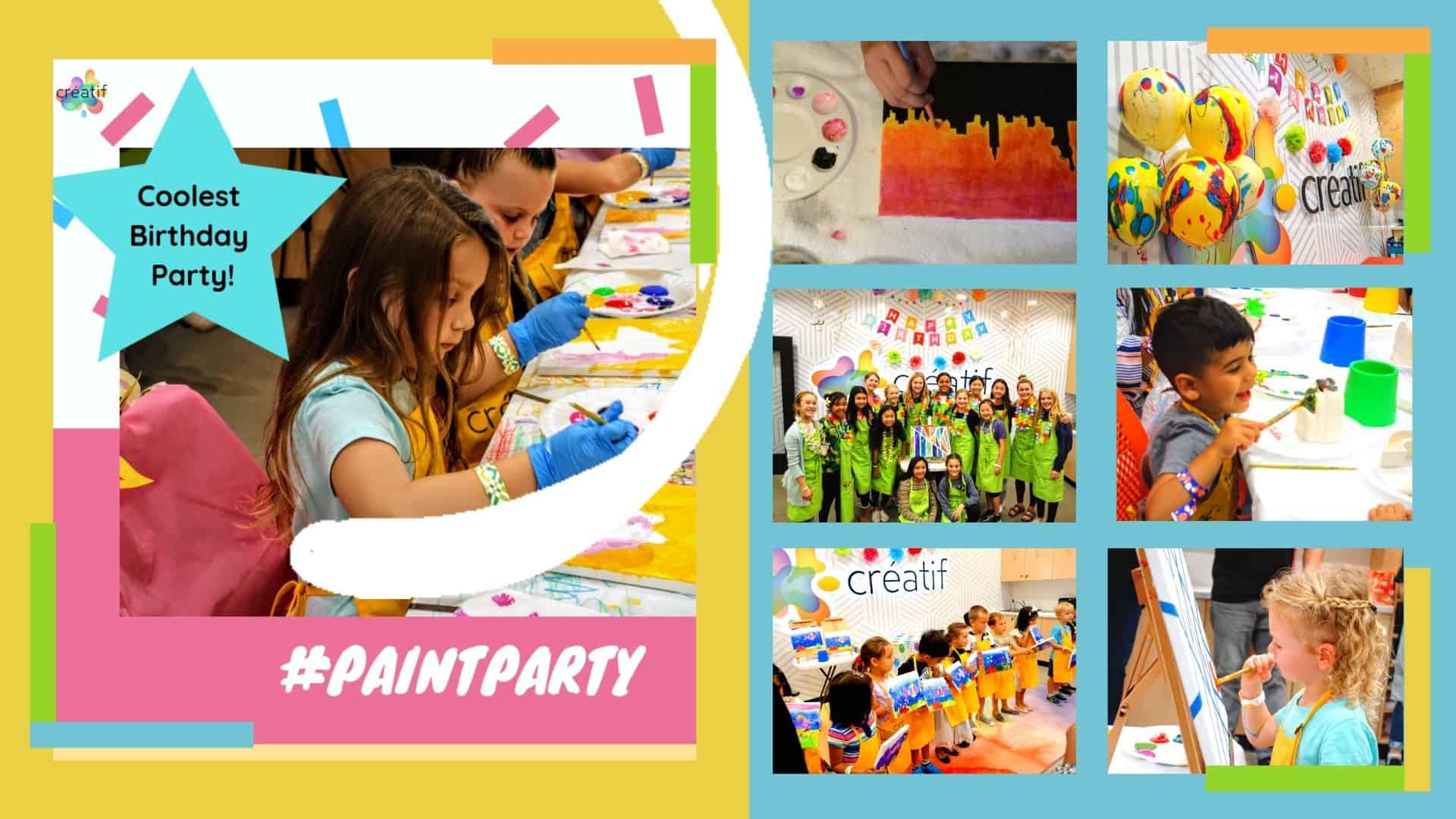 At Créatif, we love hosting unique paint parties that are packed with creativity and excitement. We know how to turn your birthday party or a special event into an unforgettable experience. Our award-winning party venue is the perfect entertainment place for your special occasion. Our private birthday parties, art get-togethers and painting events are perfect for toddlers, kids, teens and adults. We have party coordinators who manage your party from start to finish, so you can relax and enjoy the special day with friends and family.
We have many packages and add-ons to choose from, to make your party fun and memorable. To learn more about party packages, add-ons and food options, please select a studio.
PERFECT FOR A KIDS BIRTHDAY
Kids love to get creative, and a birthday party at a Créatif studio is bound to be a hit! An art party is always a fantastic experience and it's a pleasure to see their huge smiles as they have fun with their friends.
Our studios have all the equipment necessary for great kids' birthday parties and our team members are all very experienced in putting together engaging activities that every child will enjoy. Parents can take a much-deserved break or get involved with creating art themselves.
The studio has a vibrant and exciting private party room that will allow kids to relax and focus on producing fun artwork. Our spaces are specifically designed to be open and inviting whilst allowing parents and staff to see everything that's going on.
If you've been tasked with party planning for a group of children, then an art party is something that will guarantee success. We have a range of kids' birthday party packages available to suit everyone, so don't be afraid to get in touch.
ADULTS LOVE TO PAINT TOO!
Kids aren't the only ones who enjoy exploring their creativity. A Créatif birthday party is a unique way to celebrate a special day that you and your friends will remember forever.
As we get older, it becomes harder to get involved in art and pursue our creative passions – at Créatif we believe that everyone is an Artiste! Our aim is to encourage more people of all ages into the arts and provide them with the tools they need to have creative fun.
A birthday party package is an excellent way to get your birthday celebrations sorted. We will work with you to craft the perfect birthday party for you and incorporate your specific needs. For example, many adults want to have a table set up so they can bring their kids along for the fun.
BUILD BONDS WITH A TEAM-BUILDING EVENT
If you're planning an exciting team-building day for your team, why not book into one of our locations for an art class?
A team-building party package will be a unique event for your work colleagues and it's bound to go down a storm. Depending on the Créatif location you choose, we have various projects that you and your guests can explore. Painting, pottery design, and art lessons are just a few of the options on offer.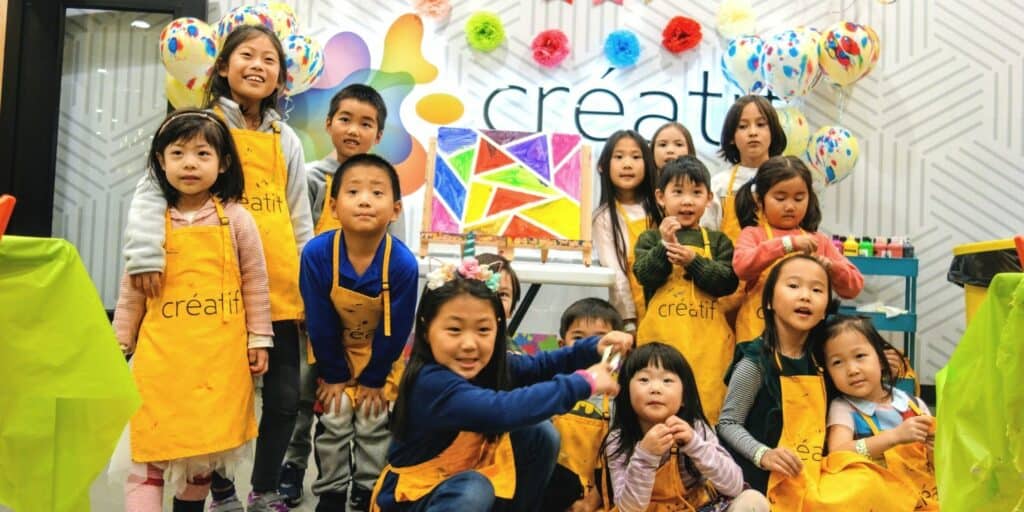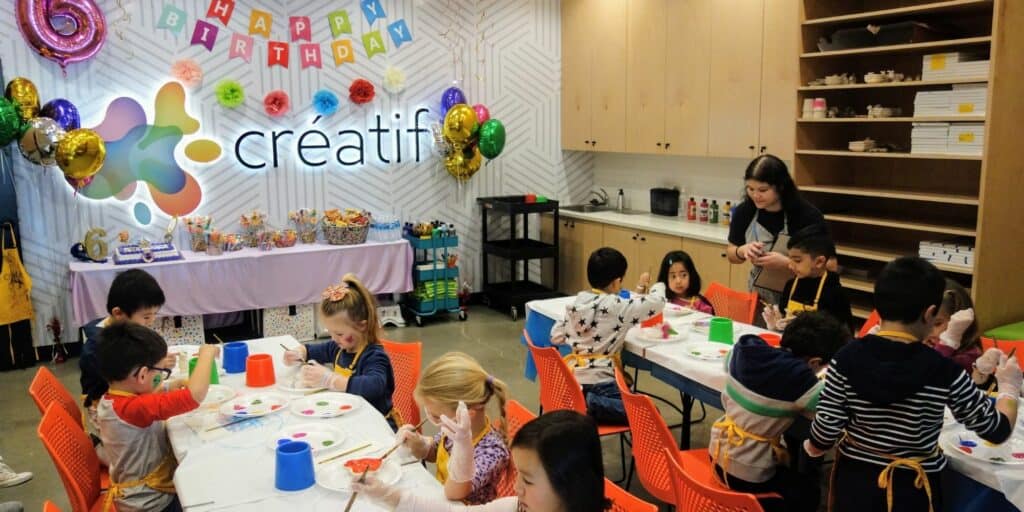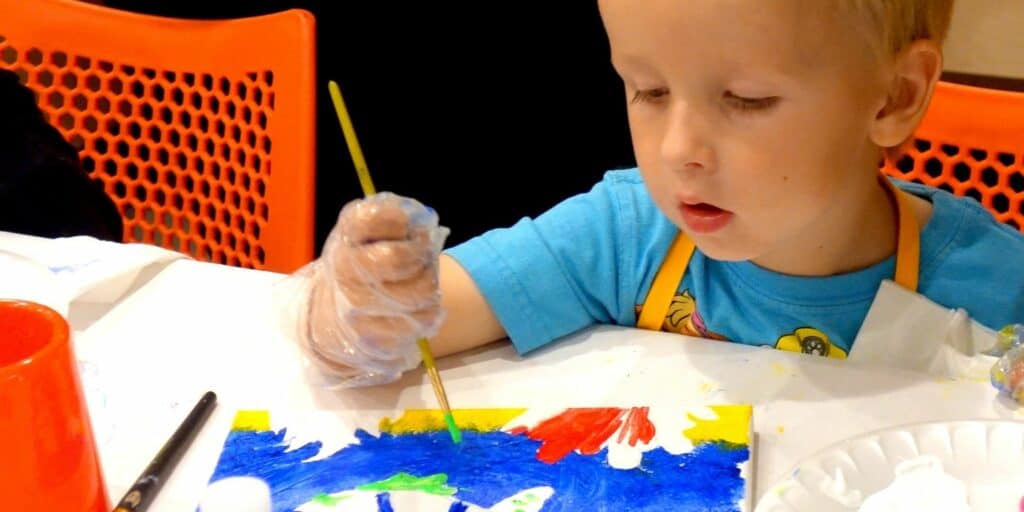 Thinking of hosting a Creatif Paint Party for graduation, baby showers, bridal shower, girls night out, mommy group parties, girls scout badge event, school events, team building, fundraisers, holiday parties or any other special celebration?
Reserve your spot online or Give us a call and we can create a party package for you!